Why choose a private parking ?
The disadvantages of a public parking
The choice of parking is not lacking around the Lyon Airport / Saint-Exupéry TGV Station. Parking Futé still wanted to warn some limits by choosing a public parking compared to a private car park .
Long journeys on foot (with your luggage)
Public parking is very large and often your parking space is far enough away from the shuttle bus stop. The pedestrian route can be long if you are loaded and if you have mobility concerns and the shuttle stop is very poorly indicated. On your return, you will have to do the opposite and you will probably not want to walk and carry your luggage to your vehicle (especially during rain, cold or summer heat).
Shuttles quickly distant and saturated
Moreover, the shuttles are often very busy because a lot of vehicles and thus of travelers park on these public car parks thinking to make savings but do not necessarily realize the distance to be traveled to foot to join this shuttle and the rather important attendance inside these shuttles.
How Parking Futé offers an alternative to these limits ?
A convenient and cheap private parking
So in this case, the advantage of Parking Futé is choose simplicity, practicality in the organization of your trip and a value for money that we try to maintain the cheaper than possible compared to our competitors.
Your shuttle comes to you and not the other way around
With us, you park your car and your shuttle comes to your vehicle to load your luggage and you settle with all the necessary comfort during transfers.
When you return, the shuttle will take you back to your vehicle and help you load your luggage. You have your place insured with each transfer and this shuttle can hold 8 seats for people seated, unlike Lyon Airport car park and Saint Exupéry station
Vehicle protection and optimum safety
Finally, another advantage of parking at Parking Futé is that the park is enclosed by a 2m high wall. 8 HD camera and night vision in continuous telemonitoring also protect our cheap private parking.
In addition, Parking Futé is insured at GENERALI for the Parking and the vehicles of its travelers. Parking Futé has declared no claims in 6 years of activity ! We live on site and the Parking is safe.
We just wanted to show you the entrance ticket of an airport car park in terms of responsibilities :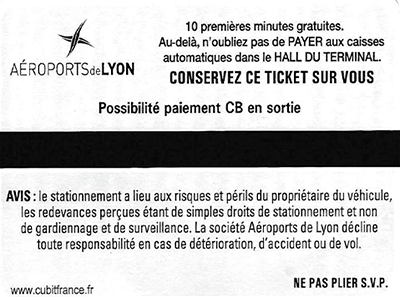 Finally, come to Parking Futé instead of the Lyon Airport Parking will only make a slight detour of 2kms on your way.